This blog post speaks for itself. It is a tribute to one of England's most beautiful gardens, Great Dixter. I can safely say it is the most inspirational place I've visited in England. It is a orgy of colour, texture and form and one runs out of superlatives to describe its beauty.
Yesterday I drove to Great Dixter with a friend. I have always wanted to go so it was with great excitement that I drove down there. Great Dixter was the family home of gardener and gardening write Christopher Lloyd who wrote over 40 books and articles. He died 10 years ago and the house is now under the stewardship of head gardener Fergus Garrett and the Great Dixter Charitable Trust. Great Dixter is not just an historic house but a magnificent garden, a centre of education and a place of pilgrimage for horticulturists from across the world.
As you walk up the path towards the house with wild flower meadow, cow parsley and ancient fruit trees either side you can see the crooked character of the entrance porch.
To the right is the sunken garden which is a blaze of colour, textures and forms. There is a lilly pond in the centre and narrow paths around the perimeter with barely space to pass. Actually the gardens are full of these narrow paths which you can barely see for the plant growth.
We had a long chat with one of the students working on the garden. He said the ethos for the planting is undulation and this is apparent everywhere. Also they aim for different textures and forms and mix up the colours as you can see from the images. He also said that they use pots to create displays which can be moved about to create different displays or replaced when the flowers are past their best. This is a very useful tip for any gardener. Here are some of the displays that are done purely with pots (hard to believe!)
The plants grow so high that you can barely see over them but the house peeks over the top from every angle.
The house and outbuildings are simply stunning - interesting chimneys, tiled roofs, rafters etc
In front of the house are more wild flower meadows with narrow mown or brick paths and ancient trees.
What I love most is the informal planting of mixed colours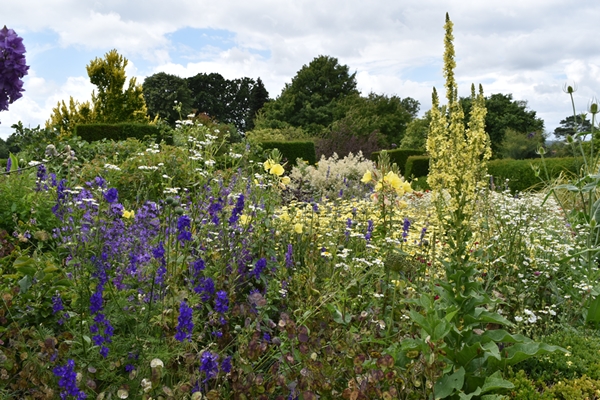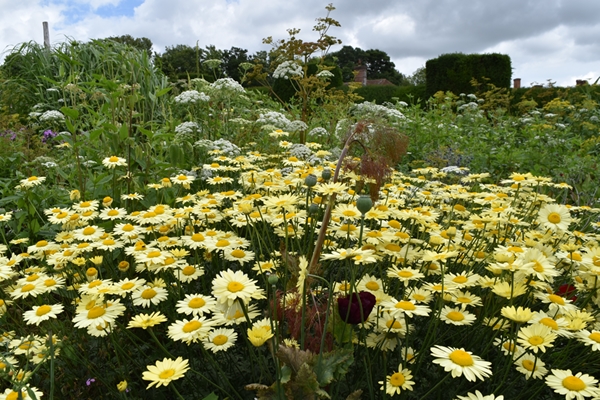 And finally a few close-ups of flowers that caught my eye
If you have the chance to visit Great Dixter I hope you enjoy it as much as I did. I ran out of superlatives by the time we left !!
You may also like to read