I visited the city of Bristol yesterday for the first time and it was all thanks to Instagram !! When I joined IG a year ago I thought it would just be an app on my phone where one looked at other people's images and made the odd comment or two. I was so wrong - IG has been a revelation, I've met so many like-minded, interesting people on IG and I've started to meet some of these lovely people in person. It's rather like a blind date as you've chatted on IG for months and got to know the person but sometimes you haven't even seen a photo of them. Then there's always the risk as with any chatting online that the person isn't quite their online persona. Anyway, yesterday was about meeting up with some IGers (as they are called) in Bristol. Most were unavailable or on holiday but two ladies, Lou and Marcie, were keen to meet up.
I jumped on the train at Paddington with some trepidation. It all dissipated when I met the girls as they were exactly like they are on line - creative, friendly and very funny - and we had an absolute blast.
Bristol is the 8th most populated city in the UK and the largest in the South West. It is very cool, hip and arty. It's famous for its street art especially Banksy whose work grew out of the Bristol underground scene.
The most famous Banksy in Bristol unfortunately attacked with blue paint by vandals
Another Bansky - he has drawn the Queen as Ziggy Stardust. Just a shame the vandals have added the speech bubble
This street art is one of my faves - Big Deal by JPS
There wasn't time to go up to Clifton Village, a beautiful suburb of Bristol renowned for having some of the most iconic spots in Bristol, including Brunel's famous Suspension Bridge, the Observatory and Bristol Zoo. These will have to wait for my next visit. However walking around the city centre there were some very fine buildings.
Fabulous patina on this door
We stopped at The Hatchet Inn for a pre-lunch drink. It is reputed to be the oldest pub in Bristol and is situated in Frogmore St. It dates back to 1606 and is Grade II listed. Since the 80s the Hatchet has been known as one of Bristol's few alternative pubs that hosts rock music.
Bristol has some very cool shops and my favourite has to be Dig Haushizzle which was started by a young couple Cassandra and Edward Nicholas in 2010. It's in the Christmas Steps Arts Quarter of Bristol city centre and has a dark and moody interior with a heavy nod towards late Victoriana. I bought a beautiful little ginger jar and my friend bought an oil painting. I was enchanted by the French porcelain jugs which were originally used in a French porcelain factory for enamel mixing.
French porcelain jug used for mixing enamels
French porcelain jug used for mixing enamels
The gardens in front of the council buildings and the cathedral were a real eye opener as the flower beds have been designed with a mix of flowers and vegetables. Swiss chard with its red stems and rows of lettuces with red curly tips complement the flower planting and corn add height and drama. There were also beds of mixed herbs. Ingenious idea!
Harbourside is an area of regeneration which is now full of bars, restaurants, galleries etc.
This guy blowing enormous bubbles had a captive audience - both children and adults
This boat is a very cool bar/restaurant called Under the Stars
Inside the boat Under the Stars - love the use of a free-standing bath as a table
Inside the boat Under The Stars
The Shed - a bar/restaurant chain that specialises in pizza, pies and cider where we had a late lunch. Marcie had the cider sampling board. This is a wall of local ciders!!
We popped into the Affordable Art Fair for a wander. I bought a small print which will be delivered to me this week. The highlight was these taxidermy birds created as lights. They are made by Elle Kaye and are the coolest lighting I've seen in a long time. What do you think?
Standing on the train platform at 8.30pm I looked across to three hot air balloons and reflected on the wonderful day I had meeting two new friends (thanks Instagram!) and seeing Bristol for the first time. I'll be back soon that's for sure!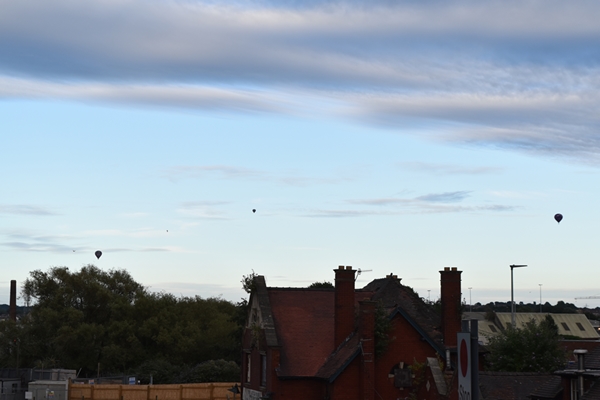 Have you been to Bristol? What do you love most about it?
You may also like to read