Hi everyone. I wanted to tell you about last Friday morning as I had a really lovely thing happen to me. My local florist and friend, Jayne Copperwaite Flowers sent me a text message to say she had a lot of flowers left over from a photo shoot and would I like to come and help myself. I thought I had died and gone to heaven. How kind and generous of her is that?! .Thank you so much Jayne.
All of the flowers!
Can you believe that I managed to get all of these home on my little moped?!!
As most of you know, I am a qualified florist and worked as a florist for two years when I first came to London back in the late 70s. I also help out at Jayne's shop when she has a busy period. I just love being back in a florist shop surrounded by the heady scents and colours of flowers and plants.
Anyway, I whizzed around to Jayne's shop on Friday morning on my moped and scooped up as many flowers as I could comfortably fit on my moped. The flowers were all pretty pastel colours. My kitchen suddenly transformed into a florist's workroom when I laid out the flowers on my kitchen table. I thought you might enjoy seeing how I styled each room with the flowers.
As an interior decorator I think it's so important to have flowers and/or plants in a room. It's a good way to add pops of colour and different textures to an interior. It's an integral part of my room styling for clients; I always encourage clients to include something live in their rooms. I love pots of herbs in the kitchen. Some flowers work better than others in a kitchen, for example, I'm not a fan of roses, orchids or other formal flowers in a kitchen, rather more country-style flowers. A sitting room, dining room or hallway are perfect spaces to use more formal flowers or formal flower arrangements. I've labelled each photo so you can see in which room I placed each vase. Enjoy them and hopefully be inspired!
Hall table
I've placed these pale orange roses in front of a 60s vintage print and a large red vintage Christmas bauble.
These roses were very long stemmed but they last so much better if you cut them very short and cram them into a vase with a narrow neck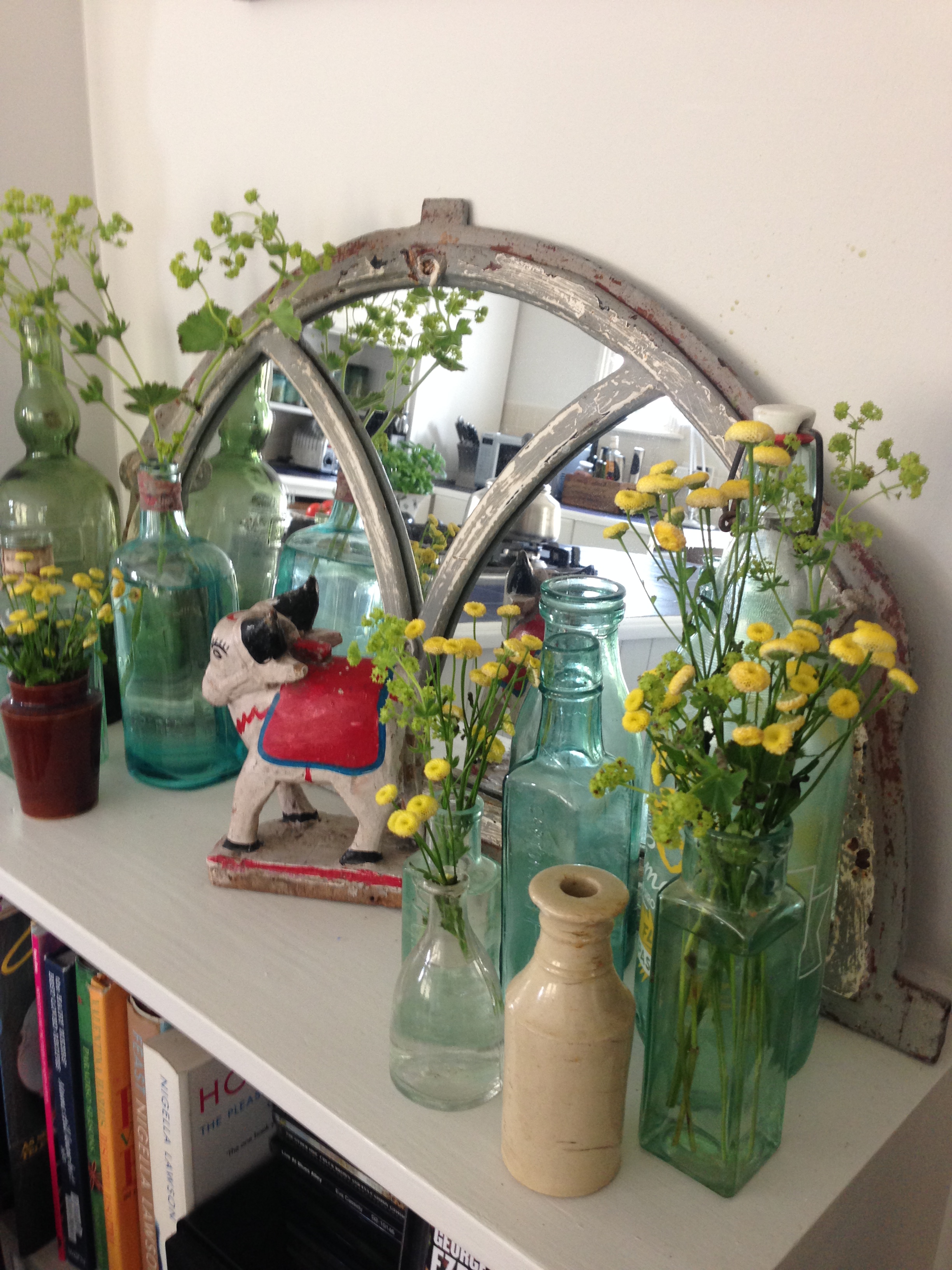 Kitchen
I've filled some of my vintage bottles with these tiny spray chrysanthemums in front of a Victorian fan light that has had mirror put in it The pop of colour is provided by the vintage Indian wooden cow!
Kitchen
This vase sits on a vintage painted cabinet that I use for my work. Another of my favourite flowers is Alchemilla (Lady's Mantle) and I love the way the lime green of the Alchemilla complements these soft pinks.
Kitchen
On my Annie Sloan painted sideboard I placed this vintage Hungarian enamel container with soft pink heather
Guest bedroom
More of the mini chrysanthemums crammed into a sweet little glass vase on my grandmother's silver tray in the guest bedroom. I love yellow as a pop of colour in this room which is predominantly turquoise as you can see from the chest of drawers they are sitting on which painted in Annie Sloan 'Provence'
Sitting room
Delphiniums are one of my favourite flowers. They merit being given a lot of space around them for maximum impact so I've placed them on the desk behind the sofa. Aren't they beautiful?
My bedroom
These divine pink roses were crying out for a vintage setting so what better than in my favourite vintage vase and placed on this gorgeous little vintage chair. The satin fabric on the chair is the original and I was loathe to remove it as it is so beautiful. The wall colour in my bedroom is Farrow and Ball 'Teresa's Green' which is a very calming yet fresh & cheerful colour.
Hall
And lastly, this vase of flowers in a vintage glass jug is placed in the hall on my vintage metamorphic chair as I think the chair offsets them so well. Not the most practical place to have flowers but hey, a sacrifice I made in the name of beauty!!
SEEKING STYLE INSPIRATION?
If you're working on your own home decorating project, need help with your outside space, home staging if you are about to put your home on the market or just some de-cluttering/organising techniques, please get in touch and see how I can help. I always offer an initial free consultation with no obligation; if you would like to book one, email or call me.
You might also like to read previous blog posts about flowers in the home