Hi everyone. Firstly I must apologise for the lack of blog posts in the last few weeks; in fact since 5 March when I posted the last one. I've had a manically busy few weeks having taken on a number of new clients. Also, I am preparing for a photo shoot of my flat in mid April which has been stressing me out somewhat. So I've been furiously upcycling some of my furniture with Annie Sloan paint (separate blog post shortly) and changing lampshades on all my table lamps.
Table lamps can be so boring and serve no other purpose than to provide a lighting source. Gone are the days when you only had a limited choice of shades, mainly 50 shades of beige or cream!! Now you can buy the most divine shades and make a real statement, a wow factor, even if the lamp base is a bit "meh". The reverse is a statement lamp base with a plain shade that doesn't compete. However, beware as you can spend hundreds of pounds on a lamp shade and even thousands of pounds on a lamp base. It's a matter of finding something affordable and you really love.
There is a great shop in London called Pooky Lighting which sells affordable and fun lamp bases and shades so I popped in and bought three pairs of lampshades for the bedrooms and kitchen. What a difference they have made to the rooms; the lighting has transformed the spaces from "meh" to "tah-dah" !!!
Neutral lamp bases and shades. I painted the bases in Annie Sloan 'Aubusson Blue' and changed the shades to these gorgeous pleated ones with a delicate fern pattern
Before the lampshades were just beige linen. Now they are a pleated shade with a funky gold and purple pattern
In the kitchen I changed the shades from plain taupe coloured silk to these gorgeous silk Ikat pleated shades by Pooky Lights. In the sitting room I replaced a pair of beige linen shades in the alcoves with black & white Ikat ones which really draw the eye in.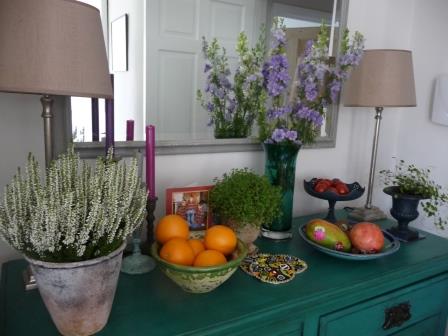 And finally, I bought a rather expensive but absolutely divine lamp base from Nicholas Haslam designed by Paolo Moschino. It is my piece de resistance but one of those items that you see and just have to have!! It is solid handcarved brass and it was the way it opened up like a flower and had such beautiful flowing lines that made me fall in love with it. The jury is out on whether any of my friends like it !!
I would love to hear what sort of table lamps you have and would be happy to offer some advice if you are thinking of changing them so do contact me.
You may also like to read