Hi All, London is experiencing some unseasonably hot weather after a month of cold miserable days. The least two days have been around 23C and today it is supposed to reach 26 degrees!
Yesterday I met a friend, her four year old daughter and her mother-in-law and we headed for Richmond on the train. Armed with my trusted Nikon D5500 I waited for my friends at Balham station.
While I was waiting for them, I saw this guy on a motorcycle - he had made a hole in the top of the storage box on the back of his bike for his dog!!
We strolled around the shops initially, especially the charity shops as we adore a bargain! We bought picnic food in Marks & Spencer and headed for the river and sat on the grass eating our lunch and watching the world go by. The place was a hive of activity - the man on the bridge painting the river, people in all sorts of boats doing all sorts of activities and people like us just chilling out on the river bank. Londoners always maximise the sunny days as we don't get many of them and everyone always looks so happy when the sun shines.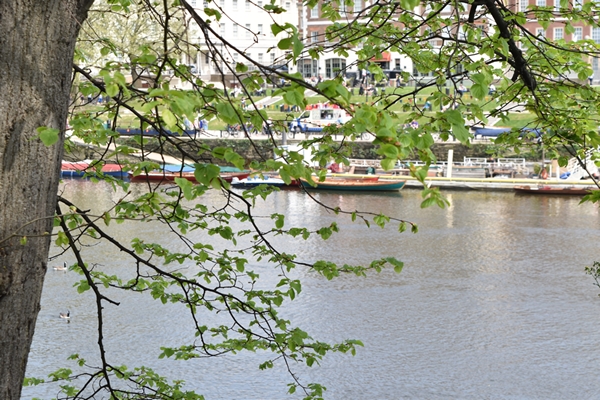 Check out the sign on this pub which is by the river. The Thames is very tidal and spring tides can bring the water level up and over the path to the terraces of some of the pubs. In fact yesterday and today are spring tides - the water was rising fast as we left but we didn't see the flooding which was after 4pm
Now which glasses do I need?!
A trip on the river is a must and if Jane and I had been on our own we would have hired a rowing boat. But a more sedate trip was in order so we took a round trip to Teddington Lock and back. As you can see from the images below, there was a lot of activity on the river - a boat with a wedding party, rowing boats hired out to people having fun but with not much of a grasp on rowing techniques (!), the Richmond yacht club's lesson of novice yachtsmen (watch out for these as they are unpredictable!) and on the way back we passed four barges heading up towards Oxford. It was going to be a very high spring tide yesterday and today where the water covers the tow path and even reaches as far as people's gardens and some of the pub courtyards!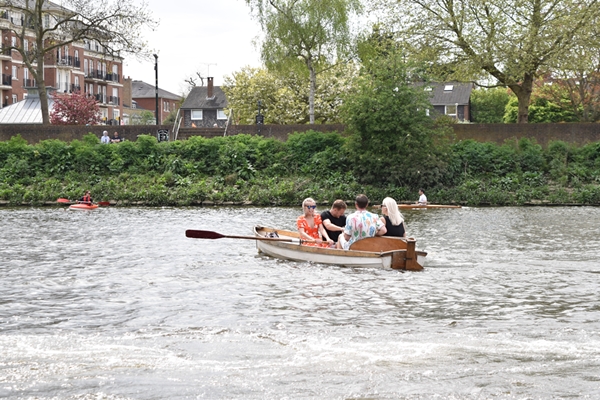 In Richmond you are never far from the flight path to Heathrow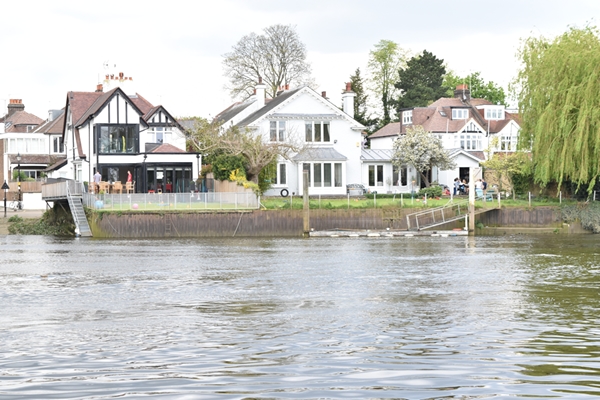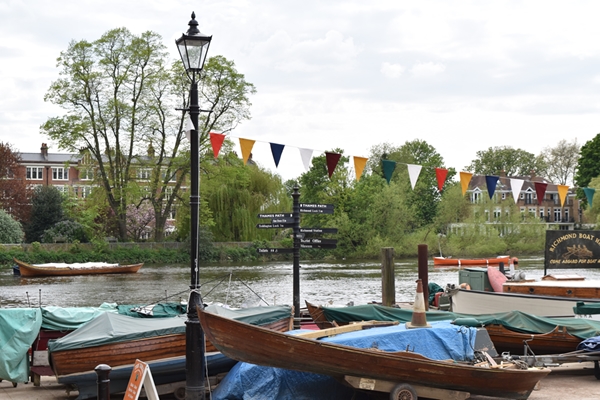 I love London and when the weather is lovely I can't imagine a better place to live.
You may also like to read